Works ordered from Shueisha Manga-Art Heritage are delivered unframed in a storage case along with mat paper. We do not frame the works for two reasons. The first reason is that there is a greater risk of damage during transportation if the works are framed, especially for overseas deliveries. Furthermore, we believe that by using a frame that matches the space in which you display the work, the work becomes more personal to you.
The same work of art can look very different in a natural thin wooden frame than it does in a flashy gold frame.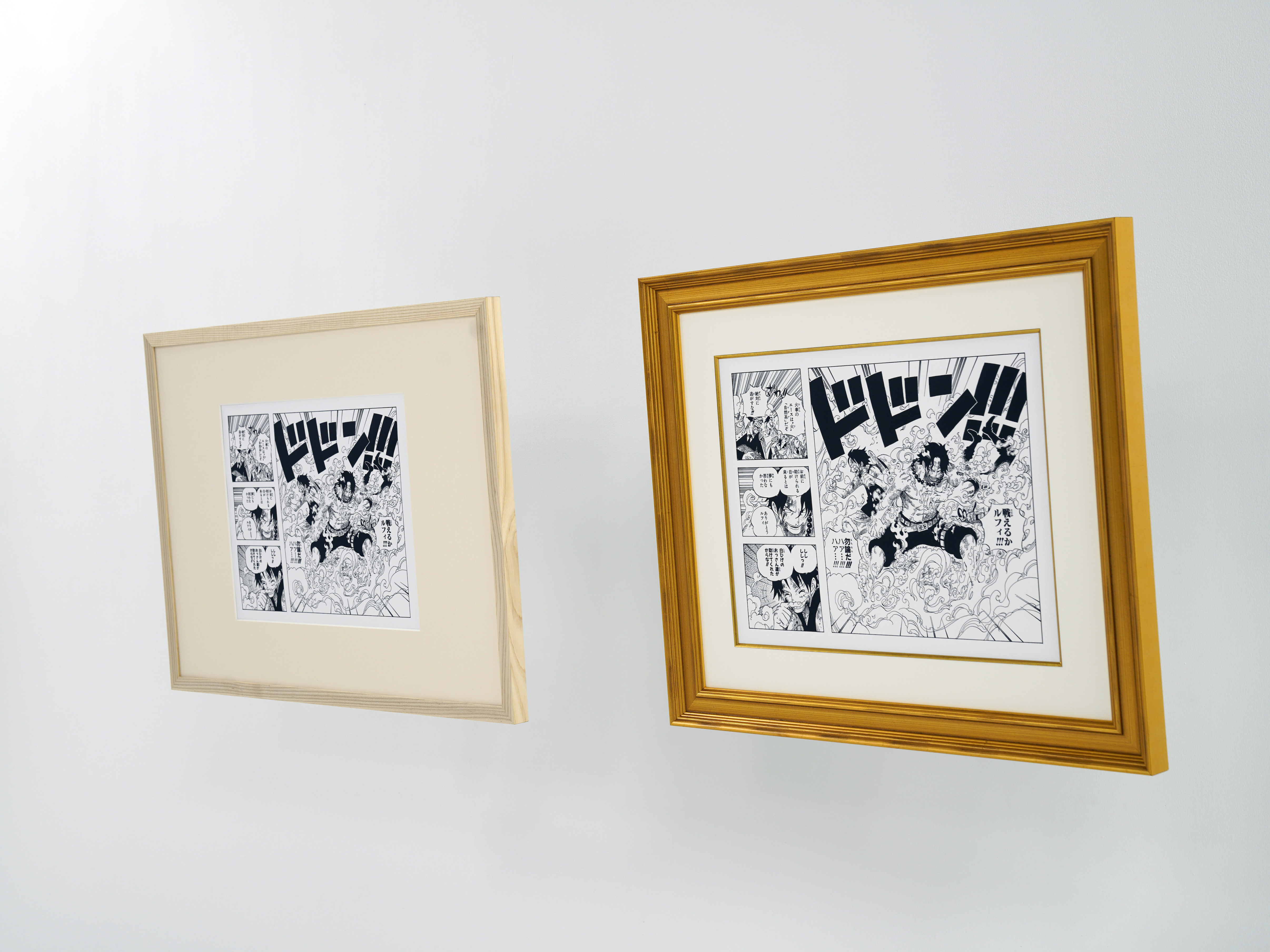 We want to see Shueisha Manga-Art Heritage works taken to framers in Japan and around the world and have frames selected for them. What kind of frames will these works find themselves in? What kind of spaces will they be displayed in? We look forward to seeing the results.
There are a few things you should be aware of when framing your work.
We recommend using acrylic frames that protect against UV rays. You should refrain from using glass frames as they do not provide such protection and can be dangerous if they fall.
* Using an acrylic plate with UV protection does not guarantee complete protection of your work. Please note that prolonged exposure to natural light will lead to color fading and deterioration.
A1 and A2 sized works from Shueisha Manga-Art Heritage come with mat paper (thick paper with the inside hollowed out for framing). Please use the provided mat paper if you are displaying your work in an A1 or A2 sized frame. We use acid-free "Pure Mat" paper. The mat paper creates space between the acrylic plate and the work, protecting it from the effects of outside air temperature, as well as from harmful substances by absorbing them.

Avoid framing the work in such a way that it touches the acrylic plate directly, as the work may become stuck to the plate and other severe damage may occur.
If you prepare a larger sheet of mat paper than the one provided and frame it, you can create a more impressive display in a large space.
We hope you will be able to appreciate your Shueisha Manga-Art Heritage work displayed in a frame.